Hot Wheels Minions Bundle 6-Pack of Vehicles 1:64 Scale
₨12,850.00
Compare
Hot Wheels vehicles combined with favorite mischievous Minions characters creates a 6-Pack of original, highly collectible licensed cars!

These highly detailed models have exclusive graphic deco that fans will love.

The characters and themes of Minions: The Rise of Gru are reflected in these unique vehicles.

Each 1:64 scale die-cast vehicle is painstakingly designed to reflect the movie character's key attributes.

With this 6-Pack, fans have an instant collection!
Mischief and Mayhem at Play!
With toys, figures and playsets from Mattel, recreate the subversive fun of Minions: The Rise of Gru — the origin story of the world's most despicable super villain!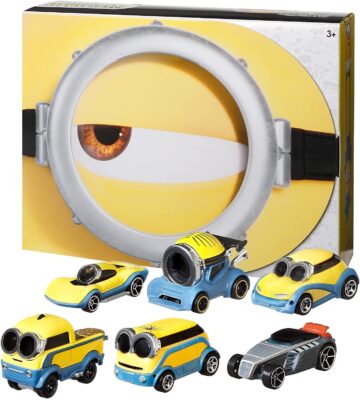 This Hot Wheels Minions Bundle is a thrilling 6-Pack of rebellious character vehicles. Each car is inspired by the Minions' globe-trekking adventures in Minions: The Rise of Gru. These inventive, movie-themed vehicles capture the epic tale. These iconic die-cast 1:64 scale vehicles are for collectors of all ages. Each model has exclusive deco and packaging. Each sold separately, subject to availability. Colors and decorations may vary.