Baby Alive Mix My Medicine Baby Doll
₨8,450.00
Compare
MIX BABY'S MEDICINE – Kids love playing "doctor" and they'll have so much fun mixing up doll medicine to make baby all better

INTERACTIVE THERMOMETER – When you use your baby doll's thermometer, a picture will appear to show you what she needs

MIX IT UP AND MAKE HER BETTER – Once you know what's wrong with baby, choose one of the packets, add water, and squeeze to fill the dropper with doll medicine. Time to open wide, baby!

CHANGE BABY'S DIAPER – Baby's thirsty! Give her some water from her cup. Uh-oh, baby's wet! Time for a diaper change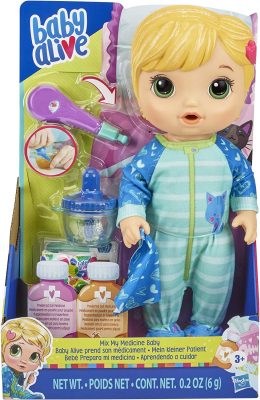 Mix My Medicine Baby, Kitty Pajamas
Baby's Sick… Mix Up Her Medicine
Baby Alive Mix My Medicine Baby is home sick in her kitty-cat pajamas today. Does she need her medicine? A tissue? A drink of water? Find out what's wrong by using her special interactive thermometer. Mix My Medicine Baby needs you to choose the right medicine, mix it up, and give it to her to make her all better!
Product Features
A Dose of Love

What do babies need when they are having a sick day at home? Lots of love, and medicine to make them better! Baby's thermometer will tell you how to care for her. Put baby's interactive thermometer in her mouth and it will show you a picture so you know just what baby needs. Does she need a tissue, a bandage, or some medicine? Mix My Medicine Baby comes with what you need to help baby feel better. You can even change baby's diaper when she's wet (additional diapers sold separately).

Fun Doctor Play

The "doctor" is in! Kids will love giving baby a check-up using the thermometer to find out what's wrong. They'll also love caring for baby, as they mix up pink or orange medicine to feed her with the dropper. Sick babies need plenty of rest, so it's time to tuck her into bed (and don't forget the snuggles!). When baby is feeling a little better, give her a few sips of water. Before you know it, it's time to change her diaper!

Make Baby All Better

Oh no, baby's not feeling well. Good thing she has her favorite kitty-cat pajamas on to keep her warm and cozy. Baby likes her pink medicine better, but she needs her orange medicine today. Mix up her medicine (add lots of love!) and drip-drop it into baby's mouth. She'll be "all better" in no time and so happy that you took such good care of her.