Nappa silver award winner

Design and build 10 amazing moving machines – teach your bricks new tricks

Comes with 80 page instructions, 33 LEGO pieces, Instructions for 10 modules, 6 plastic balls, string, paper ramps and other components

Includes a 80 page instructional book with Klutz Certified crystal clear instructions

Includes more than 30 essential LEGO elements
What is Klutz?
Klutz is a premium brand of book-based activity kits, designed to inspire creativity in every kid. Our unique combination of crystal-clear instructions, custom tools and materials, and hearty helpings of humor is 100% guaranteed to kick-start creativity.
Super-clear Instructions

Open-ended Creativity

Rewarding Reading

Skills to Build On

Everything You Need
LEGO Chain Reactions
Design and Build Amazon Moving Machines
In a chain reaction, one thing leads to another, which leads to another, which leads to another, which. ..well, you get the idea
With the stuff in this kit and a pile of your own ordinary LEGO bricks, you can build Ten awesome machines that can be combined to make dozens of different chain reactions that use many steps to do. ..a whole lot of nothing (or maybe something vaguely useful).
Your machine could toss a gum wrapper into the trash, amuse your dog, deliver a message ('Oh Yeah!'), ring a bell, and generally make you the envy of the neighborhood.
What You Get

The box attached to this book contains what you need to turn ordinary bricks into amazing chain reaction machines. Including:

– 33 LEGO Elements

– 6 LEGO balls

– 2.2 yds of string.

– 8 paper ramps

– 2 paper pop-up signs

– 1 paper funnel

– 1 paper flag

– 1 paper bucket

– 1 platform

Klutz Crystal Clear Instructions

With 78 pages of detailed instructions with brightly colored images, you will learn to build machines ranging in complexity from easy to advance.

Stuck on a certain step? Throughout the book, you will also find helpful brick substitutions, suggestions how to fix common problems, and explanations on the physics behind each machine.

Meet the Machines

Each machine is specially designed to build upon the skills you've learned throughout the book. Meet our machines!

1. Quintopple: easy

2. Dominoes: easy

3. Seesaw and Ramp: easy

4.Pop-up Flag and Falling Hammer: medium

5. Board Bouncer: medium

6. Slow Spin: easy

7. Elevator Ramps: advanced

8. Pulley and Bucket: medium

9. Funnel Ramp: medium

10. Zigzag Ramp: advanced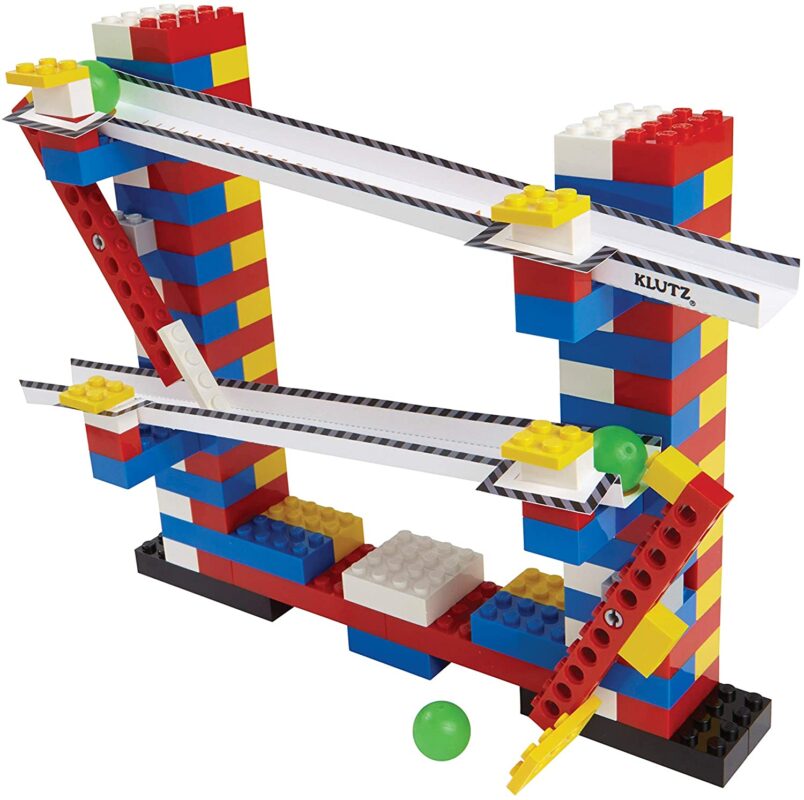 Product Description
LEGO Chain Reactions is packed full of ideas, instructions, and inspiration for 10 LEGO machines that spin, swing, pivot, roll, lift, and drop. Each machine alone is awesome, but put them together and you get incredible chain reactions. Then, combine the machines in any order you like to create your own chain reactions. Our team of experts worked with educators and 11-year-olds to invent the machines, then wrote a book that teaches the skills (and some of the physics behind the fun) kids need to create their own amazing chain reaction machines.
Our book includes 33 special LEGO elements that combine with basic bricks from your collection to make your machines go. But don't worry that you won't have the right bricks; we worked with the folks at LEGO to make sure you'll need only the most common bricks, and that there are plenty of substitutes. The result is a chain reaction of fun, as one thing leads to another… and another… and another.
Comes with: 78 page book, 33 LEGO elements, 6 LEGO balls, 6 feet of string, 8 paper ramps, 2 paper pop-up signs, 1 paper funnel ramp, 1 paper flag, 1 paper bucket, 1 platform